Rooms to Rent Stoke on Trent
By Adam Reynolds | February 19, 2020
Student Cribs offer fully furnished rooms to rent in Stoke-on-Trent ST4. They are perfect for students at Staffs uni who are looking for a spare room in Stoke on Trent. If you are a university student or a young professional searching for a spare room in Stoke-on-Trent or a house share near to Staffordshire University, we have got you covered. All our rooms to rent in Stoke ST4 include all bills, and there are no fees or deposits. Every room has a large double bed and fitted desk, and every house has a large communal space including kitchen with all appliances. Please contact our letting team for a list of available rooms to let in Stoke-on-Trent.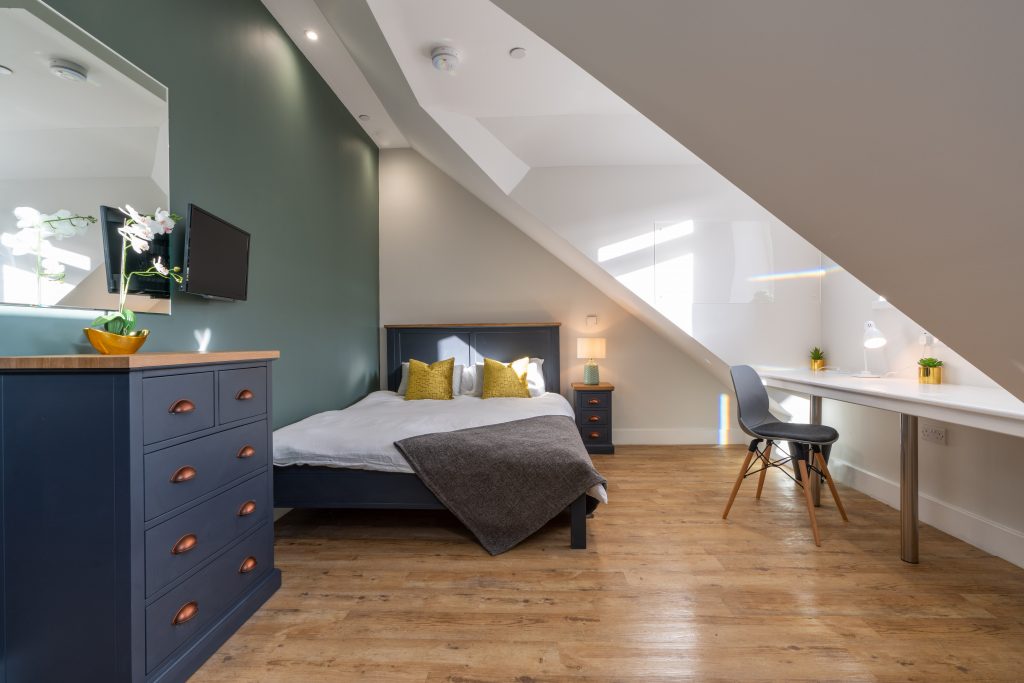 Where to Look for a Spare Room in Stoke on Trent
Explore available spare rooms in Stoke on Trent here. There are limited options for Staffs uni students who want to live off campus in their second or third year of university, but who do not have a full group to book a whole property with. This can lead students or young professionals to live on campus with first year students, or in high-cost purpose-built student accommodation blocks outside of the town centre. These options can be expensive and have a negative impact on students' social lives.
Fortunately, Student Cribs allow Staffordshire University and young professionals to book a spare room in one of our many house shares in Stoke on Trent. This allows an individual to join a group of like-minded second or third year students in a social flat share. We also offer spare rooms to Postgraduates in Stoke. Offerings rooms to let in Stoke on Trent lets smaller groups of two or three students enjoy the space and value for money of a larger property and avoid living in smaller, pricier two or three bed apartments. Joining an existing house share in Stoke is a fantastic opportunity to make new friends and live your Staffs uni experience to the fullest.
When to Book Rooms to Let Stoke on Trent
It is always advisable to secure rooms to rent in Stoke-on-Trent as early as possible. Viewing spare rooms early ensures you have the best choice of house shares in Stoke on Trent. Many student accommodation provides in Stoke on Trent initially only let properties to full groups. It is possible to book spare rooms for students in Stoke on Trent from January or February for the following academic year.
Student Cribs are always interested in discussing rooms to let in stoke with students at Staffordshire University. Whatever time of year it is, our lettings team will be happy to advise on available spare rooms in stoke.
Who Will be Living in My House Share Stoke on Trent
Student Cribs exclusively let rooms in Stoke to students and young professionals. Your experience in your Stoke house share is important to us, so we always work to match like-minded groups for flat shares. Before securing a spare room we will inform you of the gender, occupation (student or young professional) and institution / course of the existing tenants. This will allow you to select the best house share in Stoke on Trent.
What Maintenance Support Is Available with your Rooms to Rent Stoke
When you rent a room in a house share, things do from time-to-time go wrong. You may discover a leak, or something might need repairing or replacing. Perhaps you simply need help using an appliance in your fully furnished kitchen. That is why we have full-time Maintenance Managers living and working in Stoke-on-Trent. Reporting maintenance issues is super simple with our custom-built tenant portal. You will be informed of progress and contractor visitors at evert step of the way. Our maintenance support will ensure anything that goes wrong in your Stoke house share will be quickly resolved.
How to Book Rooms to Rent Stoke
Booking rooms to rent in Stoke on Trent could not be easier. All our available rooms to let are listed on our website, and most of our house shares can be viewed the day after you enquire. We suggest you view several flat shares to make sure you select the best property for you. Once you have decided what house share is right for you, all you need to do is pay a £200 holding retainer to secure the spare room. This £200 is then deducted from your first month's rent, so there is no deposit or large upfront fee to secure a place in a great house share. You and your guarantor must then complete some paperwork, and once complete and countersigned by Student Cribs, you have secured the perfect spare room in Stoke on Trent!
If you do not have a UK based guarantor, you may consider using the service Housing Hand. Alternatively, if you are an international student searching for a spare room in Stoke for an exchange period at Staffordshire University, you may wish to pay all rent upfront. Our lettings team can advise on your options.
Before you book, make sure to check our special offers, as from time-to-time we run offers to make securing the dream spare room in Stoke even more rewarding!
If you are searching for rooms to rent in Stoke on Trent, are tired of being told 'groups only' when you only want to book a spare room, or are dreaming of a peaceful and social house share in Stoke on Trent, contact Student Cribs today.