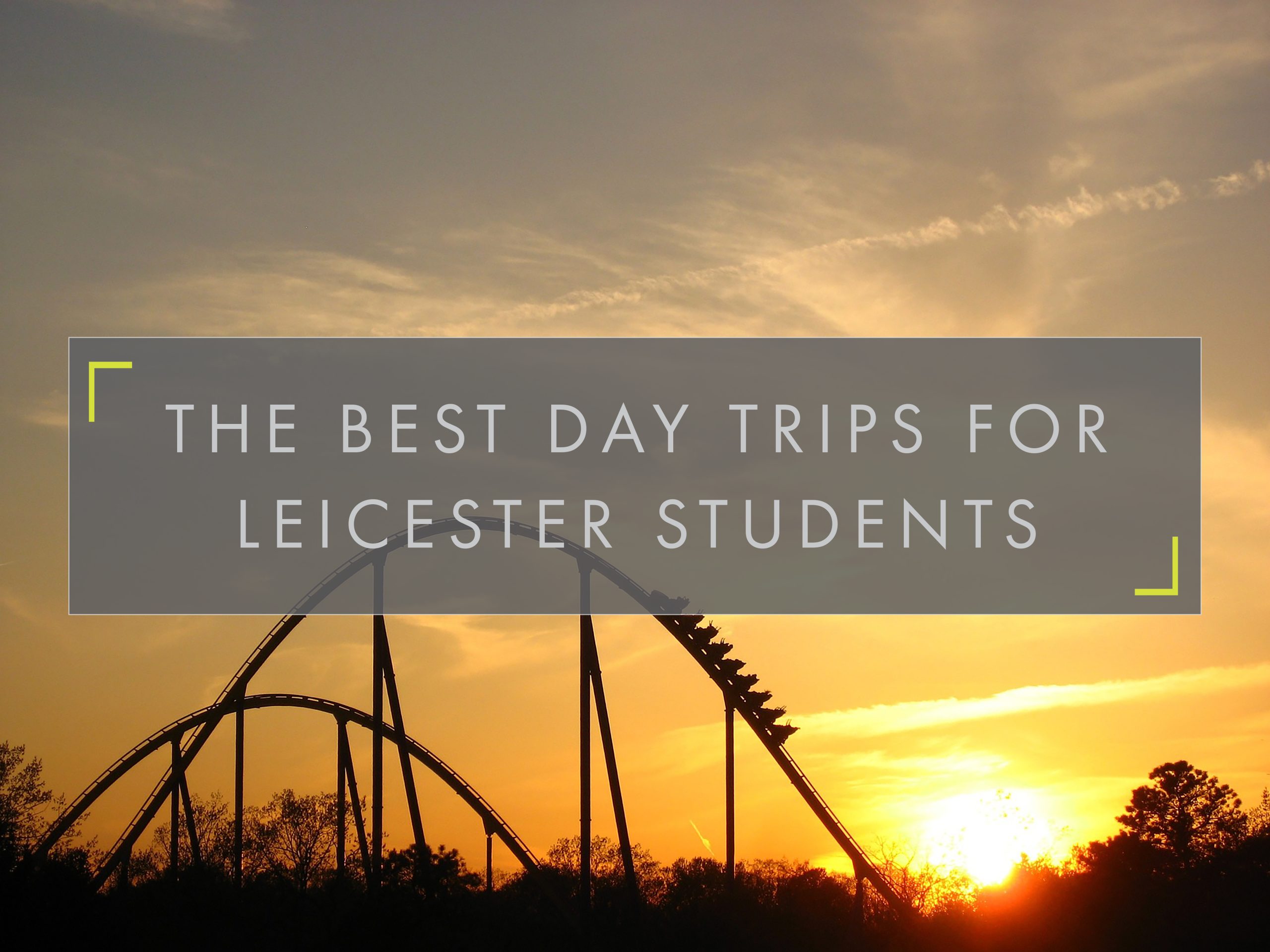 THE BEST DAY TRIPS FOR LEICESTER STUDENTS
By Student Cribs | February 16, 2023
Leicester is a great student city, with lots of things to do and see. Leicester has more to offer students than what's within the city itself. So if you and your housemates fancy a trip further afield, then keep reading for the best day trips for students in Leicester. You might be looking for an adrenaline fuelled outing or a chilled one in the countryside or maybe just to get out and explore a neighbouring city. Whichever it is we have put together your guide to the best day trips for Leicester students. It's time to get away from Uni life and experience all that the Midlands has to offer!
Looking for some adventure in your life? An hour drive will take you to the epic Alton Towers located in Staffordshire. For the thrill seekers, this theme park is a must. The world's first 14 looping rollercoaster is sure to leave you queuing up for more. Or maybe a vertical free fall drop is more your style? Either way this theme park is packed to the brim with excitement. If the thought of rollercoasters makes you feel a bit nauseous, don't worry because Alton Towers is a great family and friends day out regardless. With lots of other activities on offer, from the water park, spa and golf course to the hotel and resorts evening entertainment. There is also a range of shops and restaurants. Feeling a bit peckish? Why not check out the UK's first rollercoaster restaurant. A dining experience like no other. Watch as your meal goes on its very own adventure, twisting and turning before it makes its way to your table. A day out at this theme park is sure to give you and your mates the break you all needed from those looming coursework deadlines. Did we mention Alton Towers is only an hour drive from Leicester city centre? Which means if you're a student living in the best student accommodation in the heart of Leicester, this is the day trip for you.
Birmingham
Leicester isn't the only busy city in the midlands. Located just next door, an hour away by car is one of the UKs largest cities, Birmingham. A city rich in history, diversity and full of amazing sights. Home to the Peaky Blinders and the world's most intricate network of canals. Love the movies? Sit under the stars and watch your favourite films at Luna Springs Moonlight cinema. Birmingham's outdoor city is a great place for Leicester students to visit on your day out. Even if you're visiting in winter, the outdoor cinema transforms into a cosy heated marquee with snug seating. If you are looking to treat yourself, they even have bottomless prosecco, popcorn and sweets! For those looking for something a bit more active, we have you covered. Birmingham's favourite mini golf experience Ghetto Golf is full of neon lights and arcade games. Make sure to bring your Leicester student ID for some great discounts. Maybe you want to get out and about and explore Birmingham's canals. Escape the hustle and bustle of the city centre as walking around the canals will lead you to hidden green spots, beautiful architecture and a plethora of restaurants which are sure to draw you in. If we were to go on about what Birmingham has to offer, we'd be here all day, so you are just going to have to check it out for yourselves. A 50-minute train journey will take you to the heart of the city. So if you're a student in Leicester, a trip out to Birmingham has got to be done!
Looking to escape Leicester in the summer? 50 minutes away lies a fun packed day out for you and your housemates. For the thrill seekers there is a whole range of water sports plus an aqua park. Even if you don't fancy getting in the water, Rutland Water is still a great day out for Leicester students. There is a beautiful nature reserve to explore so if you have a bike take it with you and cycle around this natural landscape. There are plenty of places for a cold drink and quick snack or you could bring a picnic blanket and tuck into your favourite foods. Leicester students will love escaping the city after your end of year exams for a peaceful day out at Rutland.
Nottingham
Another popular student city conveniently located next to Leicester is Nottingham. Whether you are looking for a serene day out full of picnics and boating or looking for secret cocktail bars to enjoy a range of concoctions with your uni mates. Only a 30-minute train journey will take you straight to Nottingham. Known for its role in Robin Hood, you too are sure to have many adventures in this city. If you want to get out in nature, then visit the beautiful gardens and deer park at Wollaton Hall. Hidden gem cocktail bars are endless but Pepper Rocks is a student favourite. A three-floor bar full of comfy sofas and jungle décor, this is a setting like no other. And to top it off happy hour means you will be making some serious savings. Wanting to make a weekend out of it? Check out our blog on the best free activities for students in Nottingham.
Peak District
Wanting to escape the busy city of Leicester and make a weekend out of it? Then take a trip north to the Peak District. With hundreds of routes to follow and beautiful views, you could be out exploring for hours. Travelling via car will mean your journey is just over an hour! Some of the top spots we'd recommend you visiting include Edensor, a small picturesque village and Bakewell, a market town best known for creating the delicious dessert. In terms of walks, why not check out Mam Tor, a scenic ridge walk offering the best views over Hope Valley. A 3-mile-long circular walk will take you around 2 hours to complete, so don't worry there will be plenty of time to find a local pub and enjoy a nice cold bev.
As you can see it's called the Midlands for a reason. Leicester is conveniently located in the middle of lots of attractions for students to visit and explore. Whether you are looking for a break from your studies or need to escape the hustle and bustle of Leicester life. There are plenty of places to take a day trip and we hope this has provided you with some well needed inspiration for your next outing.
This blog was written by Kayleigh Bates, at Lancaster University.
Are you a student in Leicester looking for the best student accommodation for the next academic year? Student Cribs offer modern and stylish student flats in great Leicester city centre locations. Check out our Leicester Cribs here.