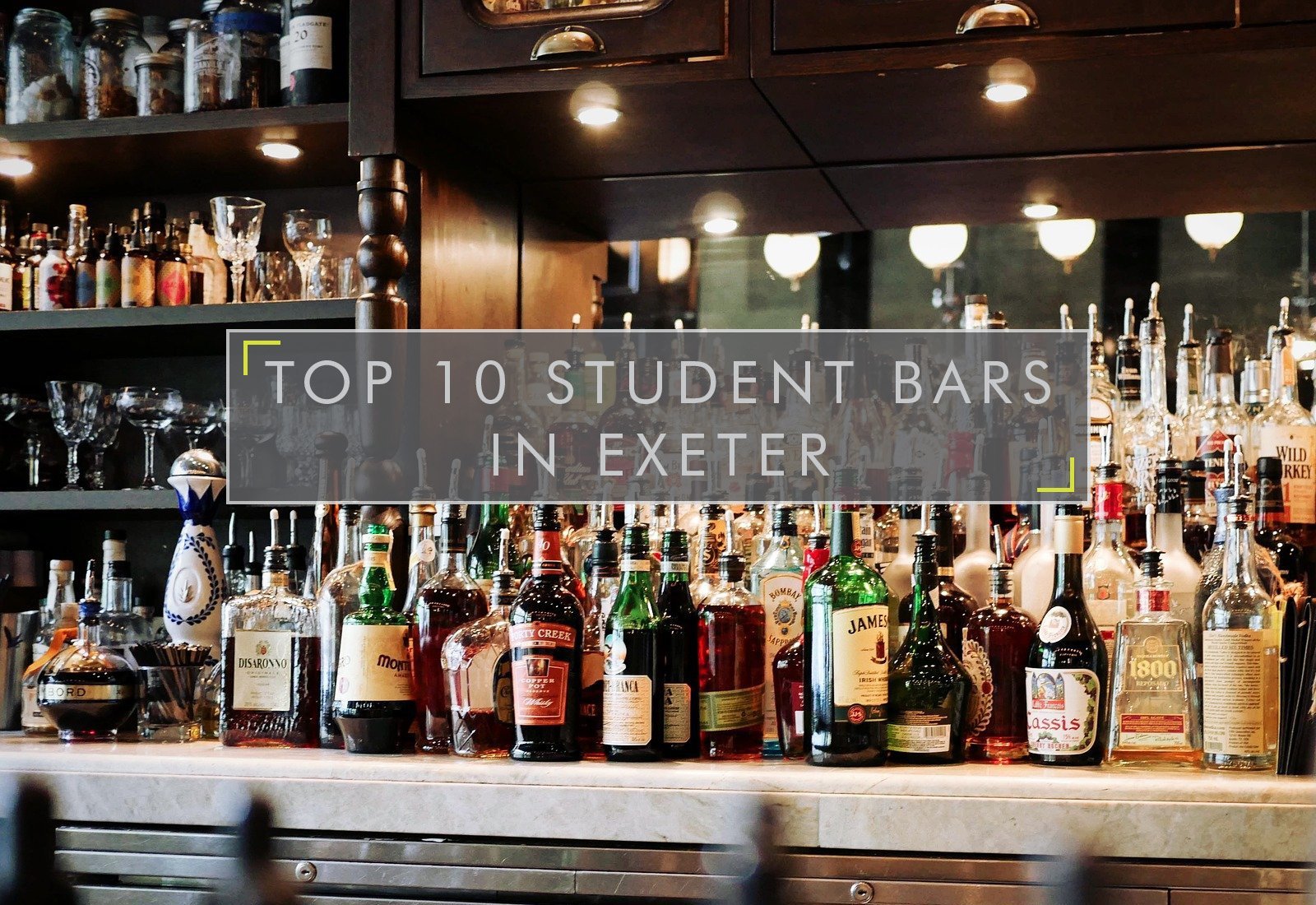 TOP 10 STUDENT BARS IN EXETER
By Student Cribs | January 31, 2022
Despite seeming to be a smaller city, there is a lively and vibrant nightlife in Exeter for students. Whether you're looking to grab a few drinks at your local pub or celebrate with your uni mates at one of the more boujee bars, we've got you covered! We've put together a comprehensive list of the best bars in Exeter for students, and there really is something for everyone!
Monkey Suit
Located in the centre of town on Sidwell street, the Monkey Suit offers a chilled and ambient vibe, perfect for drinks with friends or university society events. This vibrant bar has a range of high glass cocktails including your favourite classics with a twist, my personal favourite has to be a Bramble or their porn-star martini. There's also a variety of craft ales and world beers to choose from. Whether you're meeting friends for a few drinks or going 'out-out', the Monkey Suit is a must visit bar for students in Exeter.
2. Imperial
A Student favourite! Every Uni student loves a spoons and the Imperial, otherwise known as 'Impy' is certainly no exception. Conveniently located close to campus on New North Road, this will become your second home as an Exeter fresher, as it's only a 5 minute walk from student accommodation. With its extensive indoor and outdoor seating areas, this Wetherspoons is always heaving with students, particularly in the summer when the beer garden is packed! The iconic glass conservatory definitely puts this Wetherspoons on the map.
3. Coolings
If you fancy a trip away from campus and further into Exeter town centre, give Coolings a go! Coolings is a vibrant bar that offers a whole host of modern drinks with their own quirky names, from the fishbowls to shots and classic cocktails. Not to mention the deals on offer, making this an affordable but classy spot for a birthday celebration or a girls night out. Both floors have the unique character of a nightclub, with its low mood lighting and lively music. The industrial interior with stalls and brick creates a 'cool' atmosphere (pardon the pun). So if you're looking for a better than average night out, but don't want to cause damage to your student loan, this one's for you.
4. The Terrace
Located in the centre of Exeter's bustling night life, the Terrace is a rustic chic rooftop bar. This is one of Exeter's most Instagramable student bars. If you want to splurge, the porn-star martini cocktail tree is a student favourite, perfect for your next university celebration. Being a rooftop bar, you may want to check the weather before you go! Although a little on the pricey side, this picturesque bar is a must visit and has to make the list of the best bars in Exeter for students!
5. The Hubbox
The Hubbox, located in the centre of town, doubles up as a restaurant and bar. The terrace makes this a perfect spot for some casual drinks with friends. They have a range of unique cocktails at affordable prices that suit the student finance budget!
6. The Exonian
This is one for the sports lovers! The Exonian is a vibrant sports bar; offering a variety of craft beers, ciders and classic cocktails. There is a range of live sport on offer, creating a lively and fun atmosphere for students. The large space and multiple rooms makes the Exonian a popular venue, often hired out by different university societies on Wednesday Sports Nights in Exeter.
7. The Vic
The Vic, situated on the corner of Vic street is a local favourite among Exeter students living in the nearby area. It offers various events including the quiz night and open mic karaoke on Saturdays, with a free drink for each performer!
8. The Chev
There can never be too many Spoons on a list of the best places to drink for Exeter students. The Chev, another Wetherspoons is located in the centre of town. The pub has two floors with extensive seating areas, and is even furnished with a roof terrace. This addition of outdoor space creates a chilled feel to the pub, perfect for those summer evenings when you want to stick to your student budget!
9. The Ram Bar
Being located at the heart of university of Exeter campus, the Ram is just a short 5 minute walk away from first year accommodation. In a chilled and friendly atmosphere, the Ram offers high quality and affordable food and drink. This bar is a popular choice with Exeter students whether you want to unwind with friends or get ready to go out! Live sport is also shown on a large projector, making it the perfect place to grab some drinks with friends and catch up on your favourite sport.
10. John Gandy's
You can find this ambient bar on Gandy's street, right in the middle of town. Gandy's hosts live music gigs, student quiz nights and can be hired out for university societies. The bar itself is particularly student friendly with deals on shots and drinks at affordable prices that won't rinse your student loan!
And there you have a list of the best bars in Exeter for students. There's plenty of student pubs to choose from in Exeter, but remember to drink responsibly!
This blog was written by Florence Henderson, at the University of Exeter.
Student Accommodation in Exeter:
Looking for accommodation for the next academic year? Why not check out the best student accommodation in Exeter!