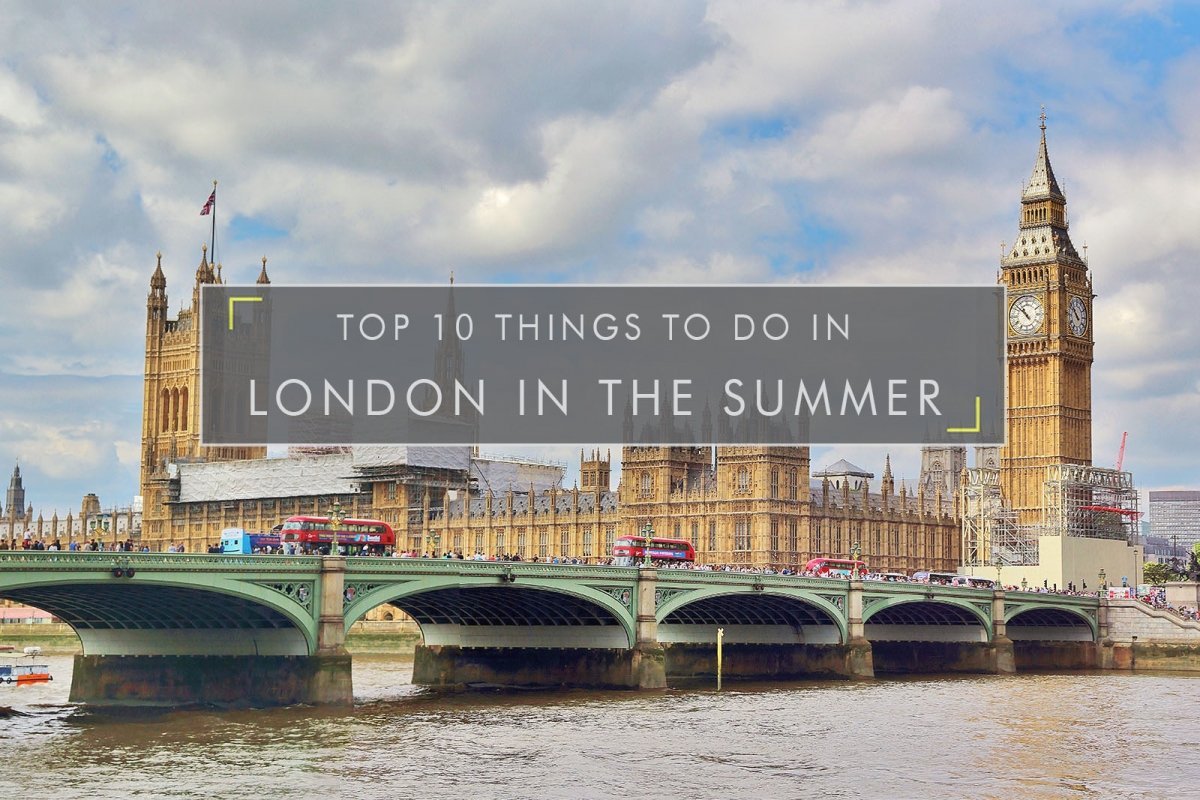 Top 10 things to do in London in the summer
By Student Cribs | June 25, 2018
Finally Summer's here and you clearly deserve some holiday time: no worries, we've worked for you a to-do list so that you enjoy London's sun and these next two months to get you back on track for September. Here is the perfect list for the coming days: the top 10 things to do in summer in London.

1. Brunches
You've woken up too late for breakfast but it's still too early for lunch? It's happened to many people, and a brilliant mind created the perfect mix: Brunches. We've selected two places that fully understand the importance of this meal for us bed-heads.
Waterside café: The picture speaks for itself, the only detail that we wanted to add it that you can get The Big "Little Venice" Breakfast (bacon, egg, sausages, tomato, baked beans and toast) for £6.90 (a vegetarian option is available too).
Useful information
Address: Warwick Crescent 93 Little Heath, London SE7 8HA.
Hours:
Mon-Fri 9:00-17:00
Sat-Sun 8:30-18:00
The Quince Tree café: Hidden inside a nursery, the Quince Tree's design is appealing and refreshing. Brunch here is about avocado, salmon and egg, but you can still get the traditional full English breakfast if you're not ready for new ingredients.
Useful information
Address: 5A Clifton Villas, LondonW9 2PH.
Hours:
Mon-Fri 8:00-17:00
Sat 8:30-18:00
Sun 10:00-17:00
2. Thameside Beach
2018's Thameside beach is located in Fulham, in the South-East of the city. Neverland will give you the opportunity to enjoy white sand, beach huts, palm trees and music for £5 – a holiday at home! In addition, there are street food sellers and a bar that will be at your disposal in case of hunger and thirst.
3. Cinemas
So simple yet so entertaining! And so that you keep having fun while appreciating the seventh art, these are the most mesmerising places to watch movies like you never have done before.
– An outdoor cinema: Nomad cinema, here you'll enjoy all kinds of movies such as Blade Runner (1982), The Shape of Water (2017) or even some classic Disney. Cherry on the cake; 100% of their profits is going to The Sustainability Institute (fighting for environment and education in South Africa). Address: 11 South Molton Street, London W1K 5QP.
– Having tasty treats with a film is best at the Gourmet cinema club. Address: 18-21 Charterhouse Square, London EC1M 6AH
– Being so well seated that no one would want to leave: the Exhibit cinema offers "classic, thought provoking films and documentaries" while being sat in comfy bean bags. Address: Leicester Square, London WC2H 7NA
Grab a friend, choose your date and you're ready to bake and challenge 9 other teams of cookers. You'll get the chance to get advice and feedback by professionals and maybe discover a real talent!
Useful information
Address: 38 Tooting High St, London SW17 0RG.
Price: £39 per person
5. Swimming in London
Hampstead Heath ponds: Three natural swimming ponds are open to the public: men's', women's' and mixed bathing. By getting to Hampstead Heath railway station, you'll be at 15 mins walk from the mixed pond and be able to relax for as little as a couple of pounds.
Useful information
Address: Hampstead Heath, London NW5 1QR
Brockwell lido also known as "Brixton Beach" is an outdoor pool of 50m2. You'll also get access to gym and fitness facilities and group activities such as yoga, aerobics and Pilates. For people that are less into sports there's also a café.
Useful information
Address: Herne Hill, Dulwich Road, London
    6.   Festivals
Whether you're a food lover or a music person (or both!), you'll be pleased in this section. If you're looking for an immersion in a foody environment for one or several days, there are different possibilities for you to enjoy:
London wing fest, you'll attend at a battle of 16 contestants fighting to win one of the two categories: London's Best Buffalo Wing and London's Best Wild Wing. Every wings will be at £1 to allow you to try them all and vote at the end. Vegetarians withhold.
The Love Natural Love Organic Festival offers for three days natural food, drink, beauty and health products. So if you're a lovers of organic and healthy food, there's the place to be.
If you're more likely to appreciate the rhythm of music festivals, on 13th and 14th July at Gunnersbury Park, will take place the colourful Lovebox. 2018's programme is huge and caters to a wide variety of musical genres to be performmed. So hurry, only a few tickets left!
Last but not least: Wireless. Again, amazing programming and a festival that is at the "cutting edge of modern music". Book your ticket and get at the London's Finsbury Park on 6-8 July.
7. Best street food hall
– Not far from Earl's Court, The Prince is a food and drink hub that gathers 4 restaurants, 3 bars and a very cute garden. Here, you can eat burgers but also Thai, Korean, Taiwanese or Japanese food. Once you've tried, you'll come back to have a taste of all the other options on offer.
– Brixton Village at Granville Arcade is a little far from the centre of London but it worth the trip. At Brixton Village you can buy a very large variety of food, also numerous cafés and arty boutiques are waiting you to pay a visit.
8. Rooftops
The Faltering Fullback is a very lively Irish pub located in the North of London. Depending on your preferences, you can take a beer or a dish from their very delicious menu (Thai curries, Beef or Chicken dishes, noodles …) and savour them on the green roof.
The Culpeper: Both rooftop and veranda are the best for picturesque places to have lunch or dinner. The modern decor and the amazing views on central London make you want to stay there for hours on end. Although the menu is not extensive, the choice is hard, and make sure you're still hungry for the Chocolate Lava cake.
9. BYOC
BYOC: At Bring Your Own Cocktail the customers are bringing one of their own unopened bottle of spirit for 2 persons and let the bartenders create unique cocktails for them. For anyone who's tired of the usual mojito, this is the place!
10. First Aid Box

First Aid Box: Here, the cocktails are really original but the recipients you'll be drinking from are even more unique. The drinks are all served in medical bags and the bar follows suit, so go heal yourself and unwind with their fruity cocktails.