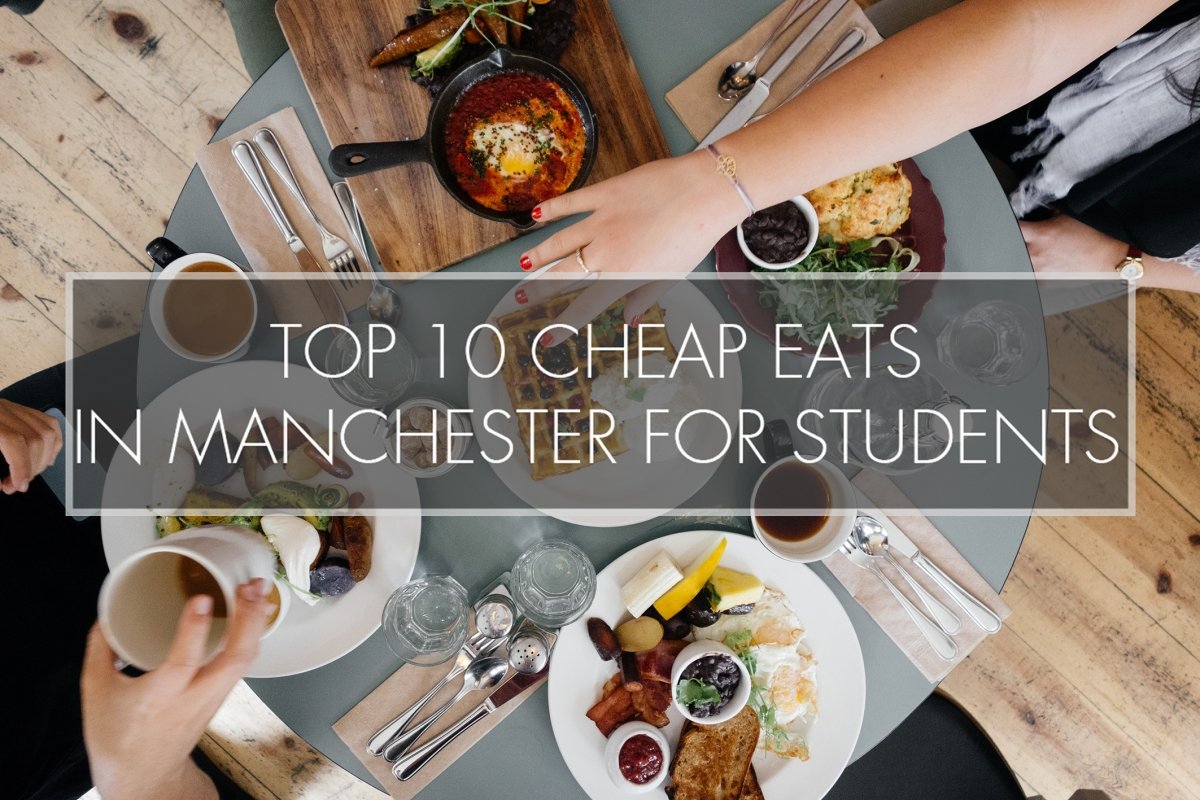 Top 9 Cheap Eats in Manchester For Students
By Student Cribs | October 3, 2016
If you're wondering what the best affordable places for eating out in Manchester, we've prepared this definitive guide for you. Bookmark it and don't forget to share with friends.
Rudy's
Visit Rudy's to try an authentic thin crust pizza, just like Neapolitans make it. It's also cheap – the prices range from £4.80 for Marinara to £8.50 for Lardo pizzas. No wonder this pizzeria is always packed.
9 Cotton Street, Ancoats, M4 5BF. www.rudyspizza.co.uk/
I am Pho
As the name suggests, the place serves hearty bowls of Vietnamese noodle goodness – pho. The interior isn't the fanciest (it's rather dodgy), but usually, this means good food at affordable prices. A huge bowl of pho or bun will cost you somewhere around £7.50, summer rolls with pork are £4.50.
44 George St, M1 4HF. www.facebook.com/iamph
Vivid Lounge
Described as 'the most chilled out cafe' in Manchester, Vivid Lounge offers a variety of dishes – ;from scones, hummus and avocado toasts to…Thai food (£8-£12) in the evening. This place is perfect for relaxing dinners and catching up with friends. It's cheap, too.
151 Great Ancoats St, M4 6DH. www.vividlounge.uk/
Yard & Coop
Hands down the best buttermilk fried chicken in Manchester. Everything on the menu screams comfort food – chicken thighs with chorizo, halloumi nuggets (£9) and…a massive three-layer chicken burger (£15) that can probably feed the whole family. Just look at this stack!
37 Edge St, M4 1HW. www.yardandcoop.com/

Wong Wong Bakery & Café
Cute is probably the best word to describe the pastries and cakes from Wong Wong Bakery. Star items include BBQ buns, egg tarts and black pearl coffee. Cheap and tasty – this café is perfect for breakfasts with friends.
28 Princess St, M1 4LB, http://www.wongwongbakery.com/
Tampopo
Head over to Tampopo to try popular dishes from South-East Asia: they offer Singapore noodles, Korean tom yam, Japanese ramen and many more. Also, the portions are very big and come with a great price tag – on average, a salad is £3.50 and bowl of noodles cost around £9. Tip: cool down the spiciness with a nice refreshing cinnamon ice-cream.
instagram.com/tampopoeats/
16 Albert Square, M2 5PF. www.tampopo.co.uk/
Fuel
Have you ever tried fish'n'chips without actual fish? Fuel replaces batter-fried cod with fried halloumi and it's as delicious if not better! For all the vegetarians and occasional non-meat eaters, there's plenty of amazing dishes. Visitors recommend trying their signature hot chocolates, wraps and vegan cakes. Considering great atmosphere and friendly staff – we are definitely sold.
Pita Pit
NUS discount, filling portions for less than £6 – what else can a student wish for? Well, the place also seems to be less crowded during off-lunch times, which means no queues. Head over to Pita Pit for, as the name suggests, tasty pitas with falafel, steak, anything your heart desires. Quoting a visitor: "It's like Subway but much much better".
3 Picadilly Pl, M1 3BN, http://www.pitapituk.com/
This & That Café
This hidden gem is definitely not famous for it's decor and atmosphere – it's more of a canteen style – go there for tasty homely Indian food and the variety of the vegetarian options. Try the lamb and okra or 3-way curry (duuh). The place isn't easy to spot, go to the Soap Street and you'll see the This & That sign under the street name sign.
3, Soap St, The Northern Quarter, M4 1EW. www.thisandthatcafe.co
Thinking about where to live next year?
Check out our stunning student cribs in Manchester and sign up to get the rents first.