Decorating Your Dining Room on a Student Budget
By Student Cribs | June 17, 2022 |
Reading Time: 5 minutes
Just because this is just your uni accommodation and not your home-home, doesn't mean you should forget that this is essentially your home away from home for at least a year (how many times can we say home?), it's important to make sure you feel comfortable and happy in your environment. The best way to do this is to decorate your surroundings. Just like the other decorating guides, this would be great to do with your housemates, this way not only does it help with house bonding but it also ensures everyone is happy with the result. So, gather around, read this helpful post and start planning!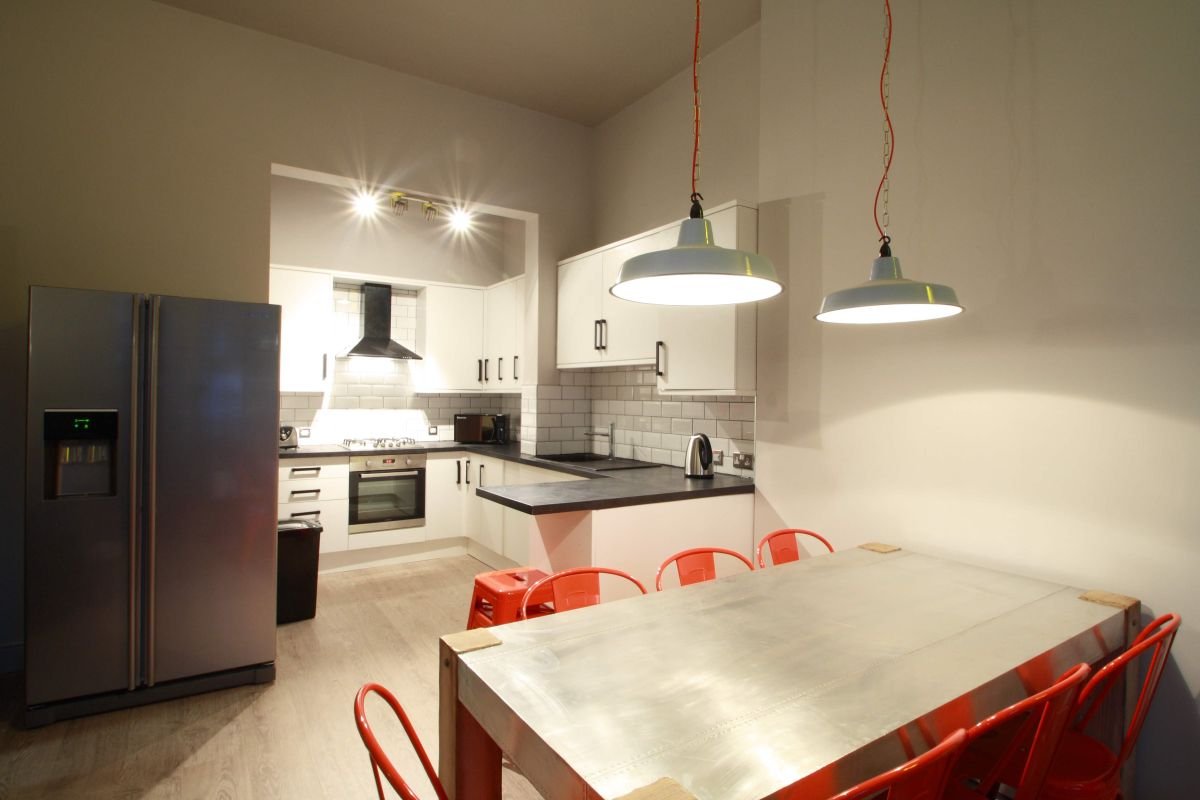 Seat Pads
If the chairs in your dining room aren't particularly comfortable, look into getting some pillows or seat pads for the chairs; you can even drape a throw over each chair if the colour doesn't go with the look you're after. You can find cheap throws or seat pads at Dunelm and Wilko.
Prints/Picture Wall
A great way to make your dining room feel like yours is to add those personal touches, so grab any pictures you have of yourself and your housemates (or get them printed for cheap using photo printing apps) and stick them on the wall. A creative way to do this would be to get some string or fairy lights (our fave!), hang them up then attach pictures to it using paper clips or small wooden pegs.
Or if you prefer, you can print out some of your favourite quotes and prints, then make your own art wall. It'll be pretty to look at and motivational, two birds one stone.
Lamps
It's all about the mood lighting, get that right and everything else will fall into place. Putting a lamp in a corner of the room can instantly change everything, don't believe us? Try it! You can get a similar effect using fairy lights, which may be a cheaper option. As long as harsh lighting isn't used, you're on the right track. This beaut below is from Ikea and only £6!
Table cloth/Runner
Using a table cloth or runner can not only make a great decoration, especially if you have a colour theme already, but it can also make cleaning up much easier of you have rather messy housemates and at the end of a meal no one wants to clean up. A table cloth that is washing machine friendly, all you have to do is throw it in the washing machine when you're done! Also ideal for any dinner parties (or pre drinks) you host.
Flowers
A lovely bouquet of (fake) flowers would make a great addition to any room, but it will particularly work well in a dining room. A cheap vase from Ikea or TK Maxx will do wonderfully, and can make the biggest difference to your dining room. As with everything else mentioned in this post, if you have chosen a colour theme, you can make sure your flowers match! If plants are more your style, you can buy a set of three small cacti and line them along the table, Primark and New Look sell some fabulously cheap ones.
Mugs/Cups
Here's a cute idea (if we say so ourselves), you and your housemates can all have mugs and cups with your initials on them! Not only would this resolve the cleaning up issue (you'd know exactly who hasn't washed up their cups ha!) but it'd also be an adorable addition to the dining room table. Matalan do a few affordable ones, you can even get matching coasters!
Still looking for a house? We've got you covered! Check out our fabulous homes ready for you to rent!