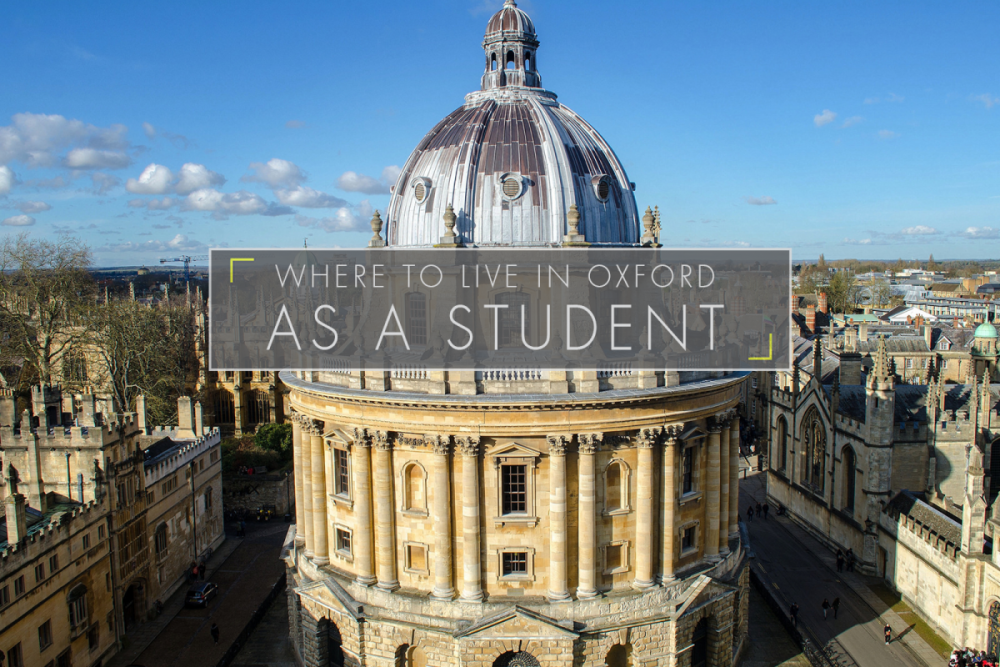 Where to Live in Oxford as a Student
By Student Cribs | July 3, 2023 |
Reading Time: 6 minutes
Oxford is such a diverse city. Home to the students of two different Universities and filled with history, architecture and a lot to do. Oxford offers so much to, not only students, but also professionals, families and also tourists and so choosing the best location to live in as a student can be difficult. There are definitely particularly popular student locations which means that competition is high so, to ensure you don't miss out in living in the best area for you, we've devised a guide of all the pros and cons of each location to hopefully make the decision a little easier…
City Centre – For those who love to live right in the middle of busy city life, then Oxford city centre will be no disappointment. Packed with hundreds of restaurants and shops, Oxford city always has something going on. However, the city centre does have its cons as student houses here are a lot more expensive, much less residential and far away from the universities. The city centre is a brilliant place with everything on your doorstop but it is really not very practical for student housing.
Price: ★
Quality of houses: ★
Travel Times: ★
Things to do: ★★★★★
Jericho – Situated next to the Oxford Uni Press, the area of Jericho (famously biblical) is a hugely popular area to live in as a student due to its vibrant and cosmopolitan atmosphere and vast number of student houses and flats to rent. It is located right next to the city centre, perfect for those who wish to be close to the buzz without living in it. Jericho's architecture is some of the best in the whole of Oxford and the area is filled with pubs, bars and cafes. However, its excellent location (also very close to the University campuses) comes at a price as rent here can be more than average.
Price: ★★
Quality of houses: ★★★
Travel Times: ★★★★
Things to do: ★★★★
Grandpoint & Abingdon Road – Another popular area of Oxford is Grandpoint & Abingdon Road. Situated alongside the river and surrounded by parks, this area has a more rural and country feel while still being only a short walk or bus ride from the city centre. Abingdon Road is ideal for those with cars looking to live a little further out in search of some quiet.
Price: ★★★
Quality of houses: ★★★
Travel Times: ★★★
Things to do: ★★★
Summertown (North Oxford) – Summertown is situated just north of the city centre, one of the most sought after areas in Oxford as it has the character of the more central areas with slightly lower rent prices. Although it is not as bohemian as some places, the area is particularly popular with Oxford University students as it provides access to St Hugh's, Wolfson and Lady Margaret Hall. Summertown is filled with shops, bars, restaurants and supermarkets, as well as being only a short bus ride away from Oxford Parkway Railway Station.
Price: ★★★★
Quality of houses: ★★★
Travel Times: ★★
Things to do: ★★★
Headington – Headington is an extremely popular location to live for students from the Oxford Brookes University as it runs straight past the main campus. It is part of the slightly more bohemian east of the city and it home to many popular student pubs. The student houses located here are large terraced Victorian houses, perfect for those looking to live in big groups and although Headington isn't known for its nightlife, the city centre is very easily accessible via bus. The University of Oxford is also only walking distance away.
Price: ★★★
Quality of houses: ★★★★
Travel Times: ★★
Things to do: ★★
Marston – Situated a little further out east, Marston is a sought after area for students as it is slightly more quiet and backs onto the University parks. However, cycling and pedestrian routes mean you can reach the Universities and the city centre in no time at all. Marston is popular with students from both universities but is typically more popular with academics and post grad students due to it being a more peaceful location with higher rent prices.
Price: ★★
Quality of houses: ★★
Travel Times: ★★★
Things to do: ★★
East Oxford (Kenilworth Avenue, Cowley Road, St Clement's and Iffley Road) – As usual, we've saved the best till last. The streets situated south of Oxford University's Magdalen and Merton colleges are definitely the best location for any Oxford student. All four of the streets listed provide excellent and easy access to the Oxford University Colleges and Parks and this area has been regarded as slightly edgier because of its vast array of vintage shops, indie cinemas and upcoming local music scene. It also boasts a ridiculous number of restaurants and bars and if you're lucky you can find properties for a slightly lower price than average! Cowley road is typically the more atmospheric of the streets, with the others providing a quieter student housing locations very close by.
Price: ★★★★
Quality of houses: ★★★★★
Travel Times: ★★★★
Things to do: ★★★★★
Still House Hunting in Oxford?
Check out our last Student Cribs before they're all gone or click on the image for more info!