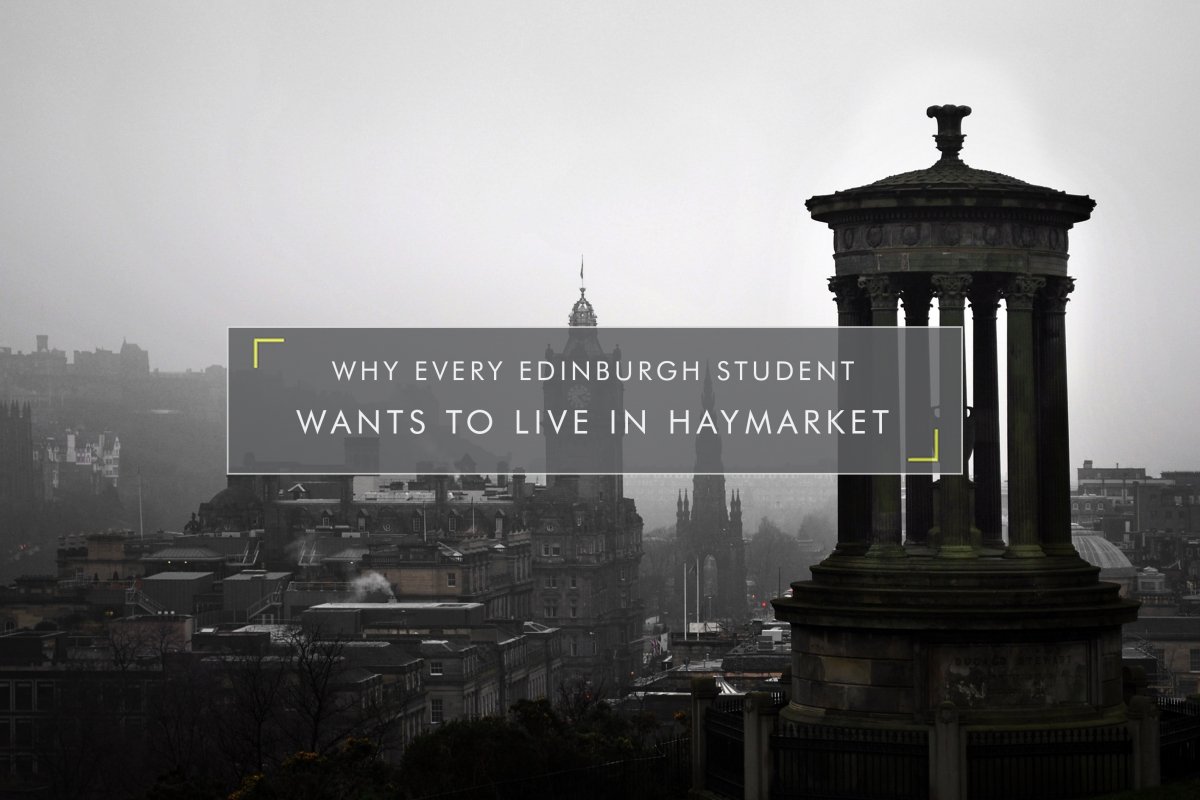 Why Every Edinburgh Student Wants to Live in Haymarket​
By Student Cribs | June 14, 2023 |
Reading Time: 4 minutes
Edinburgh is a big place, with different neighbourhoods making up the vibrant and exciting persona of the city. Unfortunately for the students, Edinburgh isn't too kind on that bank account with small apartments coming at quite a high price. It's constantly featured as one of the most expensive cities to live in as a student. With this information in mind, it's important to make sure you find the right place to live after leaving first year halls and usually Edinburgh students find themselves migrating towards one area in particular, Haymarket. Here are some of the reasons why!
1. It is affordable!
Haymarket's biggest selling point is that you get the most for your money! You will pay half the amount renting in Haymarket than you would on Princess Street. The less money you spend on rent, the more money you have for FOOD.
2. Location
Haymarket is very central, without feeling like you're constantly surrounded by people and tourists. There are students everywhere but you don't feel like you're standing in the middle of the Mile. It is a 10 minute walk to the town centre
3. Transport
If you need to get across the other side of the city and don't fancy a brisk walk in the Scottish winds, the Haymarket train station is perfect. You can also get trains to Glasgow, Fife and even all the way back down to London. Having your own train station means never having to trek to Waverley… again.
4. Rugby: Murrayfield Stadium
If you're a rugby fan, Murrayfield Stadium is located just round the corner! Come Six Nations time, Haymarket's pubs open up their doors and it is an atmosphere like no other! What better way to spend a Saturday afternoon than drinking beer with your face painted like a Scottish flag?
5. Restaurants
Haymarket has a broad selection of places to grab a bite, whether you're looking for a sit down meal or a cheap eat. Pizza Geeks, Los Amigos and Nomad's Cafe are just a couple of fan favourites.
6. Bars
If you're looking for a relaxed pub vibe, Haymarket specialises in cute bars the perfect place for a date or a catch up with friends. The Jolly Botanist on Morrison Street has a brilliant selection of cocktails.
Haymarket is a student hub, you'll constantly be surrounded by friends and classmates. If you have any questions, one of our team would be more than happy to help!
Looking for a place to live next year?
Check out our amazing student houses and make an enquiry before you're too late!
Make an Enquiry / Book a Viewing