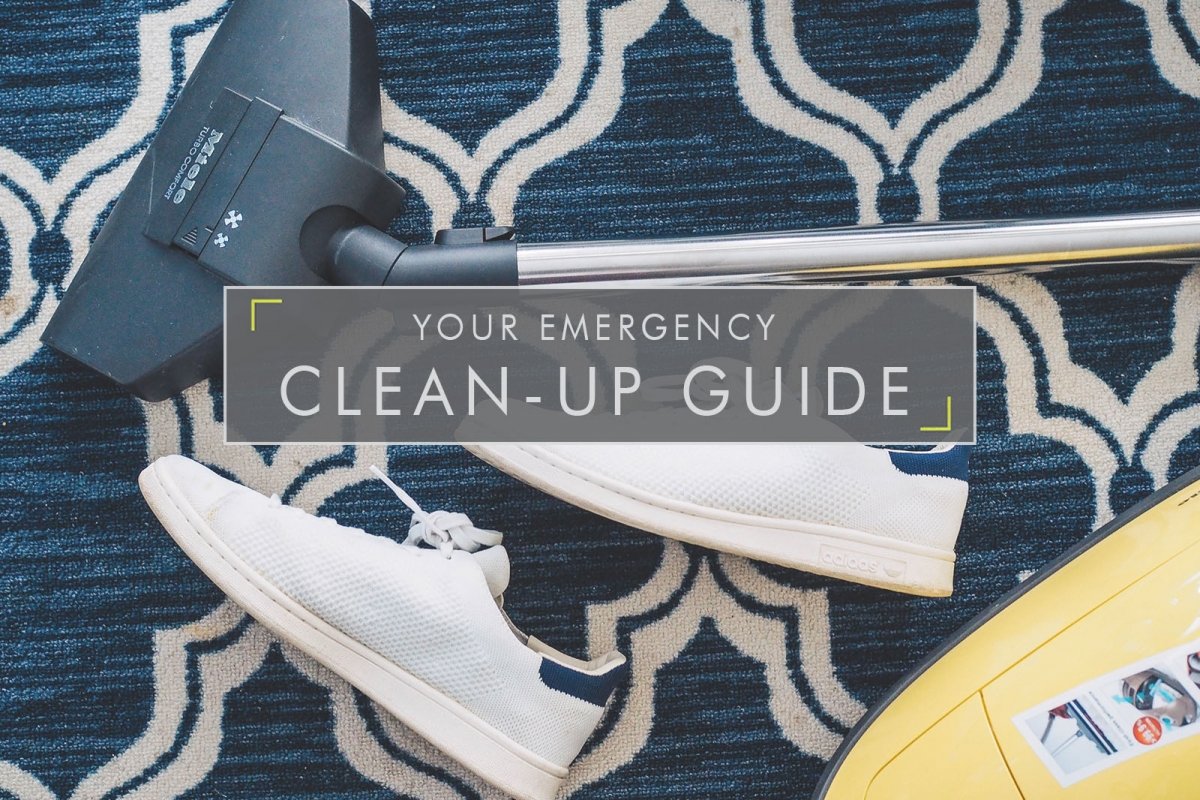 Your Emergency Clean-Up Guide
By Student Cribs | June 18, 2018
When moving into a student house, there undoubtedly will be some dilemmas when it comes to "whose turn it is" to clean or "who left" a mess, but is a learning curve for all who are getting used to living independently for the first time. From the abandoned, grime-ridden stove to the forgotten, brimful wastebin, check these hacks and tips to help clean the most stubborn of stains and left mess… or rather check this when you finally get around to facing the big clean-up.
NECESSARY PURCHASES: Get it or regret it
You would have to be extra lucky to get by cleaning a house with merely hot water and washing up liquid, but don't expect to pay a hefty amount for extravagant cleaning materials as there are a few key essentials that have a multitude of uses at a low cost! Even better, you are likely to have a handful of these items at the ready in your cupboards.
Your basic cleaning products:
o Coca Cola (a great save if you have any leftover or flat coke!)
o Vegetable or olive oil
o White vinegar
o Baking soda
o Bleach
o Carpet cleaning brush bottle (Aldi sells an amazing one cheaplykdk!)
See? Deep cleaning has never been such low maintenance!
THE KITCHEN: Plots and plans to confront the pots and pans
Pots, pans and oven trays: leftover or charcoaled food and grime can be at once a gross and stubborn job to clean off your kitchen utensils, however, with the help of coca cola, it helps to pour this for example into a frying pan and leave a while, and then pour in added boiling water. Leaving the solution to soak for a period of time (this can be efficient if you do this and go about your day and come back to it later!) it will make the overall cleaner much quicker, no more food or elbow grease!
[271 Smithdown Road, Liverpool]
Microwave: to remove any dirt on the inner door can be done with ease if you place a cup of water and vinegar inside and time the microwave until the solution boils and steams the inside. Take some kitchen roll to wipe away the grime.
Dishwasher: although it is up to the dishwasher to clean up your dirty plates and cutlery, it's up to you to clean the dishwasher! This can be easily overlooked, however a clean dishwasher will make for clean crockery, and so is necessary to be kept in good condition. Do check for chunks of debris in the draining area such as broken glass, plastic and food that hasn't broken down. A cup that's a quarter full with vinegar and water poured around the draining tray and then put on a cycle will clean the inside of your dishwasher and keep your plates sparkling!
Sinks: firstly, if your house happens to own a plunger, that would be the best thing to use when you discover a drain blockage in the kitchen. However, for those who don't have a plunger, there are several ways to help unblock a drain, though it may take a little more work. A mixture of beach and boiling water is an effective way to break down some of the clogging, although it is also worth unwiring a coat hanger and bending it down the plughole in order to physically alleviate the built, resistant blockage inside that bleach cannot disintegrate. Gross, but gets the job done.
THE LIVING (DEAD) ROOM
Windows: in the instance where you may want to clean your windows, investing in window cleaner can feel like a waste of a purchase for only one or two uses. Yet Coca Cola can come to the rescue once more to remove any liquid stains or smearing. Simply decanter the contents into a spray bottle or pour onto a sponge and dry finish with a piece of kitchen roll.
Wooden floors: a common mistake that is made is an excess of water being poured onto wooden floors in attempt to wash away dirt, yet this prolongs the cleaning time, renders the mop as useless and only encourages dirty footprints from shoes walking across. It is much more effective to combine boiling water, lemon juice and vinegar into a spray bottle and then mop the floor which allows more control over the areas you wish to clean.
Sofas: for leather sofas, there requires a relatively low maintenance effort, but a wipe down with vinegar and hot water using a soft cloth can clean it quickly, plus vacuuming in the crevices of the cushions. For fabric sofas, stains and dirt can show up fast and more obviously. If this occurs, it is advised to use carbonated or fizzy water to clean the material with instead of still water, to help activate and uproot the stain better.
The DREADROOM a.k.a the Bedroom
Carpets: hoovering is pretty much self-explanatory, yet we are all guilty of vacuuming the slightly larger things we can't be bothered to pick up ourselves to throw away. This may solve the problem in the short-term, however is not very kind to your hoover, which is more prone to blockage and inefficiency this way. A simple hack to resolve this issue is covering the nozzle with the leg of a pair of thin tights, this way you can still pick up those loose bits of change, hairbands or rubbish but without it being sucked inside the hoover. For stain removal, it is probably quickest and easiest to simply buy a carpet cleaner brush bottle, which can be bought cheaply at Aldi – so purchase this for a few quid at the start of the year and you'll remain stain-free!
Surfaces: other than the obvious wipe down of surfaces, a great way to get rid of crumbs, hair and small dust piles can be done lifted with a strip of sticky tape, which often can be discarded onto the floors instead.
The BATHROOM'S sanitation down the drain?
Toilet: Coca Cola is great for cleaning your toilet, simply pour the contents in the toilet bowl and leave for up to an hour, then flush. This is a good substitute for when you've ran out of bleach in the bathroom.
Shower: often there can be a build up of soap scum on the shower door, which can take some time and effort in order to scrub off the markings, vinegar assists the breakdown of this scum, making the removal quick and the surface shine! Vinegar doubly can act to unclog the shower head if you pour some of the liquid in a storage bag and tie it to the shower head.
[Bathroom at 44 Hawthorn Terrace, Durham]
…AND relax…

This guide covers some essential tips when it comes to an urgent clean up around the house, which even better, can be done with household items that are easy to grab from the supermarket! Be sure when cleaning up to not allow yourself to get too bogged down with one individual job – it is much more efficient to spend 10 minutes doing several things, than scrubbed the shower door to immaculacy whilst neglecting the rest of the bathroom.