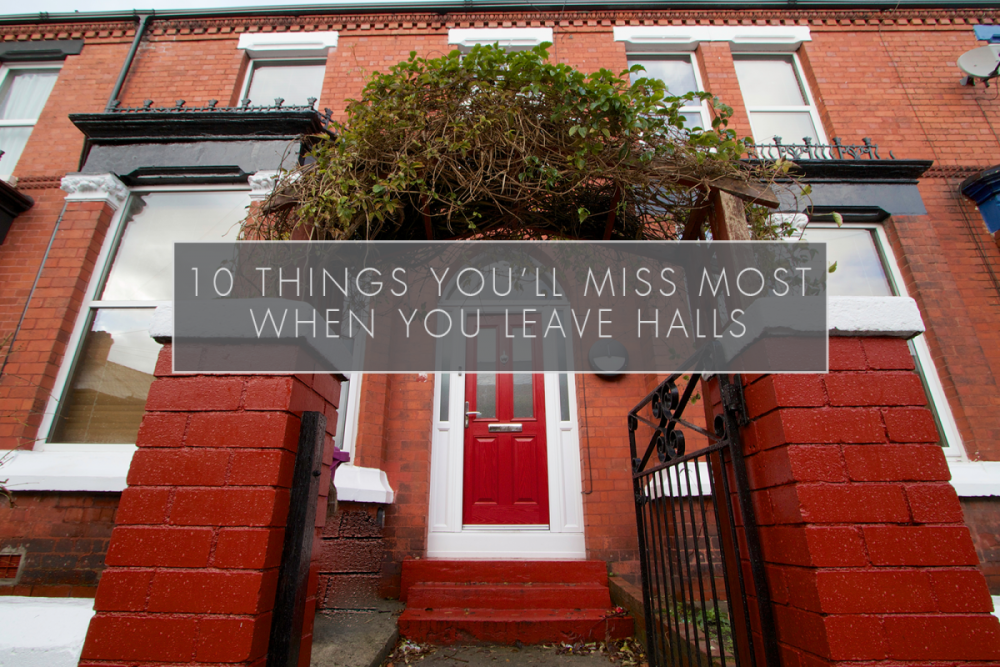 10 Things You'll Miss Most When You Leave Halls
By Student Cribs | July 3, 2023 |
Reading Time: 6 minutes
Although there's actually nothing better than living in a student house with all your best friends, looking back on freshers, and the memories that came with it, definitely does make you a bit nostalgic, especially saying goodbye to your beloved halls of residence. So what are the things you'll miss most when you leave halls?
1. Your small, cramped room
By the end of first year, you'll be dying to get out of your box room and into a real house with an actual sofa, however after leaving you'll eventually begin to miss your cosy room and the memories that came with it. For most it was your first room away from home, the corridor where you first met your best friend, and the perfect location for cramped movie nights and even more cramped pre drinks.
2. Being close to campus
Although as a Fresher actually doing work was not something that crossed your mind, being able to roll out of bed and into lectures was definitely taken for granted (and being able to go straight back to bed after). Once you've moved out of Halls, having lectures means a whole day on campus, lunches are packed, library spots are found, and 9am lectures mean waking up so early, just to get there on time!
3. The people you live with
In second year, living with your best friends from first year is a right of passage, but what about all the other people who were in your flat with you? Although you will almost definitely see them again, living next door to the Spanish exchange or having random cups of tea with the girl from the room across the hall are definitely fond memories that will be missed.
4. The food in Catered Halls
For those who spend their first year living in Catered Halls, the first few months of second year are very, very hard. Waking up with a hangover and being able to walk into the dining room with a full English, buffet style breakfast waiting for you seems like something from your dreams, when actually all you've for breakfast is some cereal and an old piece of bread.
5. Not having to buy toilet roll
Unsurprisingly, toilet paper isn't the first thing that springs to mind when thinking about what you'll miss when you leave halls, but trust me, it's a big one! Running out of toilet roll just isn't something that happens when you're in halls, the cleaners keep you fully stocked up, but unfortunately it becomes the bane of your life when you have to buy it yourself.
6. Not having to hoover
Once again the magical cleaners from Halls go by pretty much unnoticed, however the minute you move into a house where your floor isn't being hoovered while you're out and about, the fluff and the dirt build up very quickly. Hoovering is another not fun chore that will make you miss your halls.
7. No noise complaints
Inevitably, if you're in halls making noise late into the night, it's a given, however the minute you move into student housing, you'll have to be a bit more wary of the neighbours or noise complaints will start to come your way.
8. Not having to pay bills
Paying bills is the one thing that everyone dreads about moving out of halls, no one wants to do it and it can be awkward and long making you wish you were back in halls where the word 'bills' wasn't even mentioned. (Or you can always pick a house where bills are included in the rent and then you're sorted!)
9. Campus Security
Although campus security is probably not the most missed thing about leaving halls, it definitely was the most useful. Losing your key on a night out and being locked out in the middle of the night was definitely made a whole lot easier when there was someone to help you out, only a phone call away.
10. Being a fresher
Saying goodbye to your halls of residence means also saying goodbye to being a fresher. Although the prospect of moving up in the world of University and sharing a house with all your friends is extremely exciting, the prospect of gaining some responsibility is not. In halls there was always something going on, your social life was sky high and work was never an option, but now it's time to see what you'll love most about living in a student house.
---
Still looking for a house for next year?
Check out out stunning range of student houses all over the UK!
Make an Enquiry / Book a Viewing