THE BEST STUDENT INFLUENCERS 2023
By Student Cribs | July 3, 2023 |
Reading Time: 6 minutes
Our highly trend-led, Gen-Z student cohort of today are social-media savvy, and inevitably attracted to like-minded individuals experiencing a similar stage of life- student life! From YouTubers to TikTokers, the student influencers out there have built their followings and social media presence on the basis of relatable content for all other students across the UK. So, here are the Top Student Influencers you should be following, for everything from academic advice to financial tips, and general inspo to get you through those all important years at university!
Bronte King (Gals Who Graduate)
Although no longer a student, Bronte studied at the University of Reading before founding 'Gals Who Graduate'; an online support network for females, students, and graduates. Driven by her experience of lacking support as a graduate entering adult life, Gals Who Graduate offer advice, networking, educational seminars, job notifications, and bring together a friendly community of like-minded students and graduates. Having grown a combined reach of over 80,000 girls worldwide, this Instagram and Facebook based community is an invaluable source of advice, inspiration and opportunity for student and graduates alike.
Instagram: @galswhograduate
Website: https://www.galswho.com
Facebook: https://www.facebook.com/galswhograduate
StudyPlate
Our next student content creator is a TikToker that appeals to students of all ages. For all students from GCSE and beyond, the StudyPlate Tiktok page is the ultimate destination for all-kinds of advice and insights. Videos for pre-university students include 'How I went from a 6 at GCSE to an A at A-Levels', revision schedules, and recommendations for specific GCSE and A-Level subjects. For University students, the creator Hossein often documents his experience as a Dentistry undergraduate, alongside general insights from the most popular university degrees, to optional sources of income alongside your studies.
TikTok: @studyplate
28Kaira
Influencers focusing on student finance and budgeting have proved to be very popular among Gen Z. Tiktok creator Kaira aims to banish financial confusion for students, by explaining concepts surrounding money, entrepreneurship, and business building in short videos. Kaira covers a vast range of financial topics, including explaining passive income, entrepreneurial book inspiration, and general money tips. Engaging with Kaira's content will undoubtedly enhance your knowledge and awareness in preparation for the 'adult' world, focusing on money matters that schools and universities often don't teach!
TikTok: @28kaira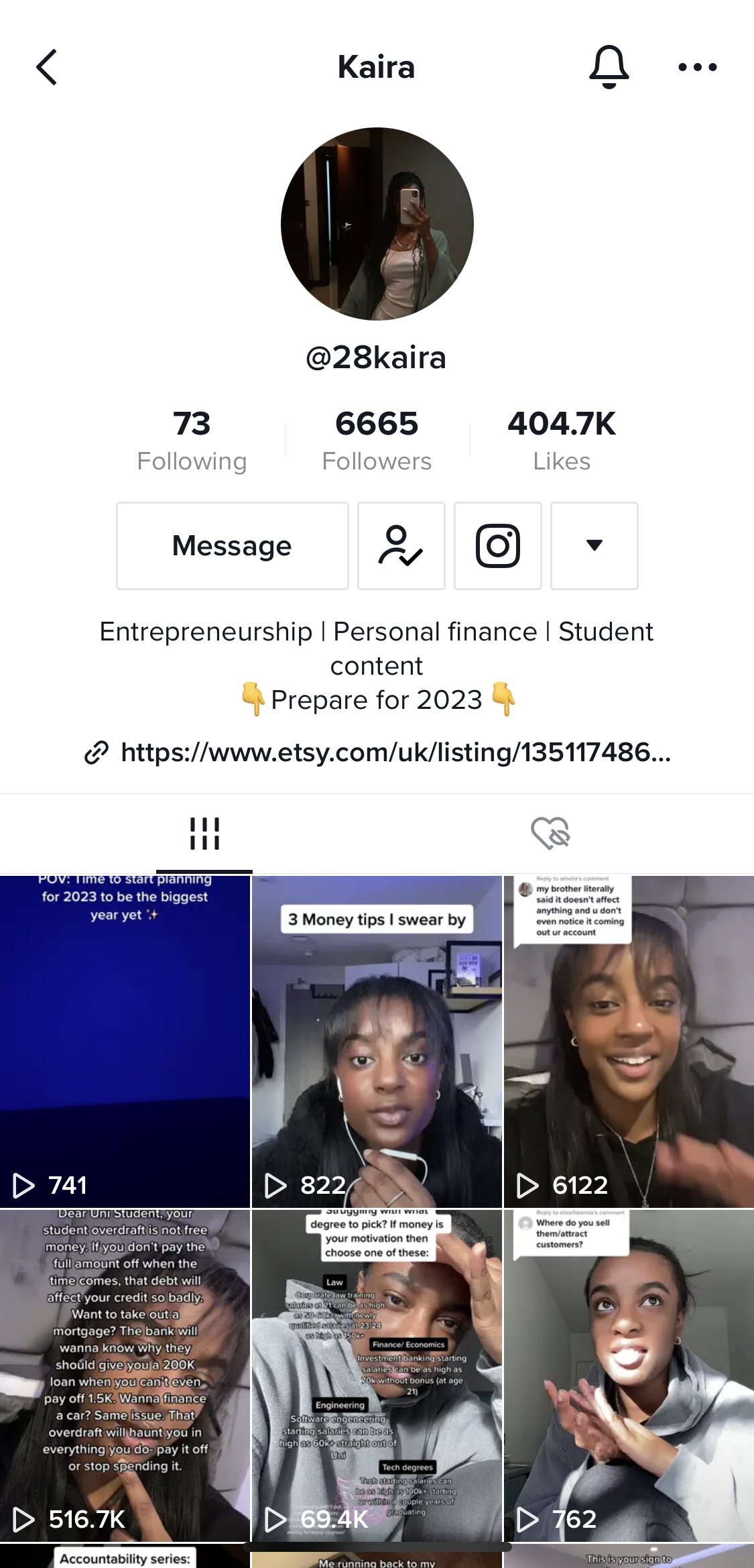 Ibrahim Mohammed (Ibz Mo)
State-school educated, BAME Oxbridge student, Ibz Mo, ultimately aims to break stereotypes through his content, encouraging students to follow their true ambitions and reach their full potential regardless of their background. Having studied Psychology at the University of Cambridge, followed by a Masters in Education at the University of Oxford, Ibz has experienced education at two world-leading universities. Originally posting on YouTube, Ibz shared academic content such as his Oxbridge experience and university application advice, as well as student lifestyle content including freshers, uni meals, and self-care advice. Ibz often shares his raw, unfiltered opinions to expose secrets he wishes students knew, and life lessons from his experiences.
YouTube: @IbzMo
Instagram: @IbzMo
TikTok: @ibzmo
Ruby Cline (conversationswithruby)
Another avid TikToker is University of Cambridge student, Ruby Cline. Ruby uses TikTok to discuss and normalise many university-related subjects. Her videos range from drinking cultures at university, 'aesthetic' trends taking over many students lives, to tips for focusing during revision. Ruby has a strong passion for journalism, so also writes articles for the university magazine 'The Tab'. However, her Tiktok page is certainly an important destination for insights into, and her personal opinion on, current student issues and trends.
Tiktok: @conversationswithruby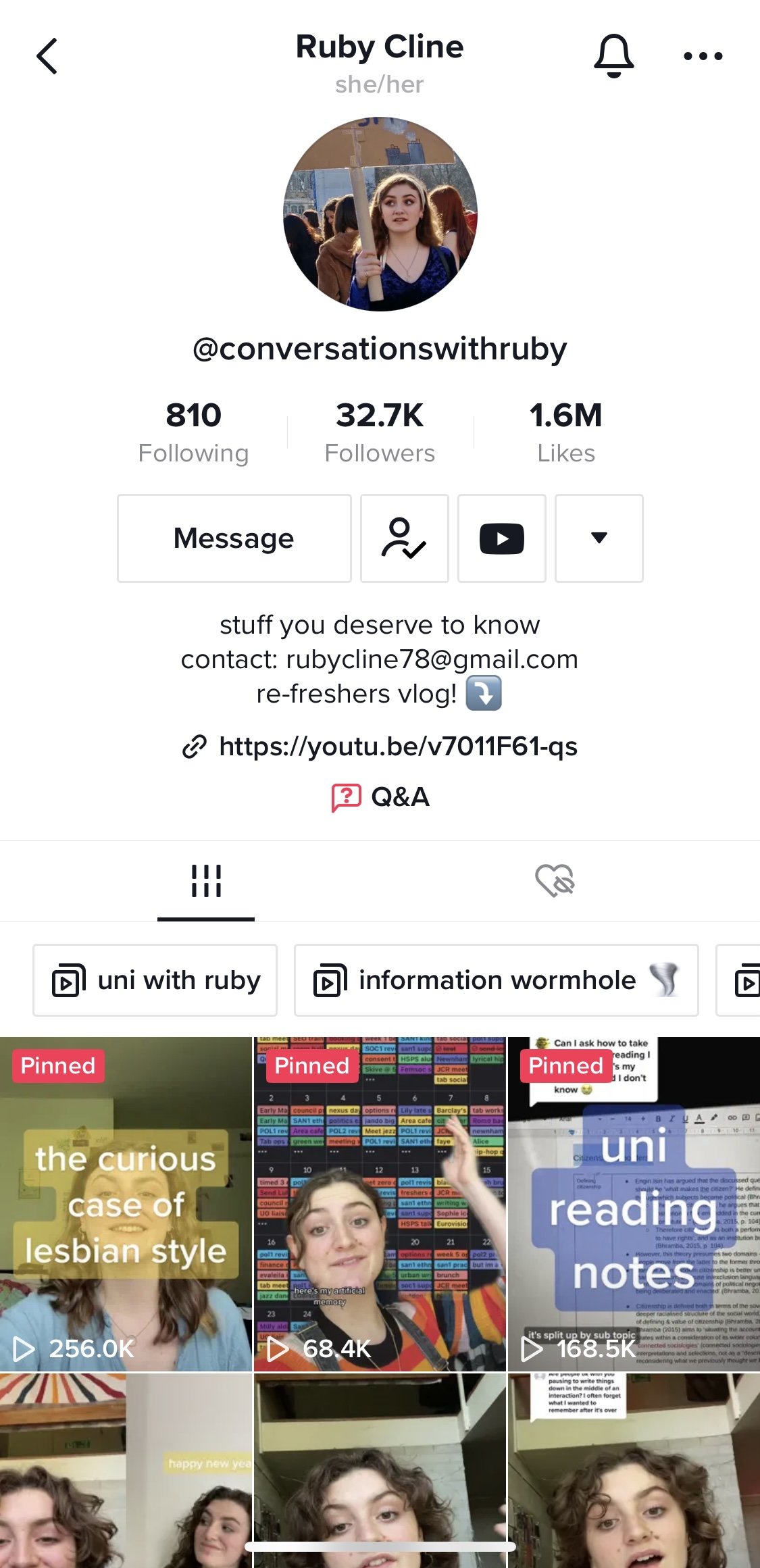 Jack Edwards
Our final content creator is graduate Jack Edwards. Whilst studying English Literature at Durham University, Jack started posting videos documenting his university experience to inspire other students. With videos from university vlogs to self-care at university tips, and from exam survival guides to book recommendations, Jack's content clearly covers all bases. For his commentary on a vast range of topics, and generally bubbly and bright personality, Jack has grown a large following of 1.2 million YouTube subscribers, and almost 500,000 Tiktok followers. More recently Jack has taken to Tiktok to share his post-graduation life. He titles himself 'the internet's resident librarian' and pioneer of #booktok. Jack has also authored his own book, titled 'The Ultimate University Survival Guide: The Uni-Verse', that provides 'a complete, unadultered, unfiltered handbook to university'.
YouTube: @jack_edwards
TikTok: @jackbenedwards
Instagram: @jackbenedwards
And there you have our round up of the Best Student Influencers of 2023. This is just a selection of content creators popular among the Gen Z student cohort. There's plenty more out there covering all kinds of topics, from fashion to finance. If you're a student or graduate in the UK looking for relatable, informative, funny and inspirational content, be sure you're following all of these student influencers!
This blog was written by Charlotte Deville at the University of Nottingham.